Antunes in Australian GT 2015 title hunt at Highlands, NZ
We return to the beautiful Highlands Motorsport Park in New Zealand this weekend for the final round of the 2015 Australian GT championships. The title race is between me in the Skwirk / Beechwood Homes Audi R8 LMS Ultra and Audi works driver Chris Mies from Germany. With Grant Denyer and Jono Lester, both in Ferrari's, sitting in 3rd and 4th on the leaderboard, also in contention for a possible shot at the championship.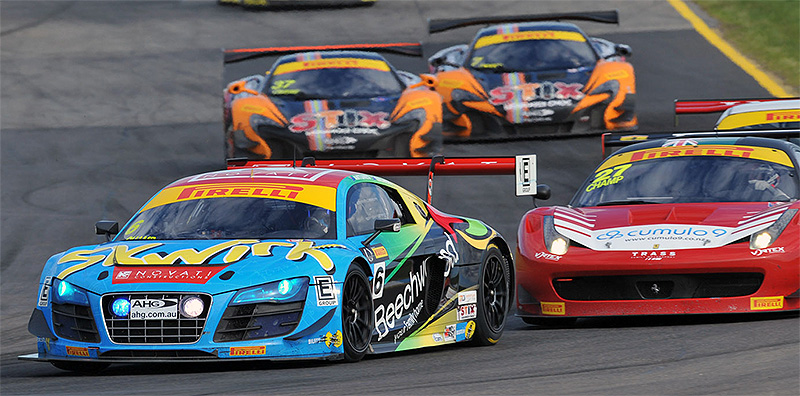 The weekend format will see both 1 hour Australian GT races contested on the Saturday 14th at 10:55am and 2:00pm where the Championship will be decided. On Sunday 15th, separate to the Australian GT Championship, the famous Highlands 101 will be on with a Le Mans start at 1:20pm.
Needless to say, I'm very excited for this weekend. It's been a while since I drove the Audi R8 Ultra so I'm looking forward to it. Rod Salmon and I both had a great weekend last year in both the older 2011 spec Audi where we won the Trophy Championship, and running the current 2015 Audi we came 2nd in the Highlands 101.
I can't thank my supporters enough for such and amazing year thus far. Beechwood Homes and the Cavasini family, Skwirk.com.au and the Salmon family, EGroup Securities, Novati Constructions and the Novati family, Brent Wilson, Bilstein, Heasman Steering and of course my amazing team Melbourne Performance Centre.
I'm going into this weekend loving my racing, it's been an amazing year in the AGT where I've been able to race the world's most amazing cars against world class drivers. Three wins and six podium finishes in ten championship races for me so far, and two championship deciding races to go. My approach this weekend is to go and do what I love and do it the best I can. I can't control what other drivers do, just myself, and I know I will be there at the end.
I will finish off the championship races on the Saturday by myself and will then team up with Rod again on Sundays 3 hour, 101 lap race and go after the Highlands 101 glory. It's going to be a great weekend!
2015 Australian GT Championship Rounds 1 to 5
Round 1, Adelaide SA – Feb 26-Mar 1
Race 1: 1st
Race 2: 1st
Race 3: 3rd
Round 2, Phillip Island VIC – May 22-23
Race 1: 11th
Round 3, Townsville QLD – July 10-12
Race 1: 5th
Race 2: 1st
Round 4, Sydney NSW – Aug 21-23
Race 1: 2nd
Race 2: 3rd
Round 5, Sandown VIC – July 10-12
Race 1: 7th
Race 2: 9th
Follow me on Twitter and on Facebook for the latest updates.