Victory at the 2016 Liqui-Moly Bathurst 12 Hour
What an amazing weekend. Every part of it went exactly to plan. Our goal was to finish the 2016 Liqui-Moly Bathurst 12 Hour race nice and clean. As it happened, we finished 1st in AA class and in 6th place overall, right up there among some of the biggest professional names in endurance racing.
Practice
Friday practice was great. Greg Taylor, Barton (Bart) Mawer and I, together with our engineer Rob Palermo worked to get the car feeling just right. I drove the car in practice two for my first laps around Mount Panorama and instantly had the feeling that I was in a very special place. I had a huge job to do and that was get into the groove of the circuit and get this new Audi R8 LMS feeling as good as possible come race day. Bart jumped in and finished off the session. We made some big changes and it paid off with all of us loving the feel of the car in practice three with the lap times reflecting the positive change.
We had one last practice session on Saturday morning and we decided the night before that I would do the 1 hour combined qualifying and the 20 minute Class A shootout, so that Greg and Bart had the full hour to themselves for valuable seat time.
Qualifying
I had to prepare some new brakes at the start of the qualifying session which gave me time to really have a look at how the track had evolved with rubber build up and debris off line.
Towards the end of the session I managed a 2:03.0. I was really starting to understand how this new car worked compared to last year's Audi R8 LMS Ultra and how best to drive it. With only a 10 minute break to the final A class shootout, I stayed in the car and started to think about where I could get some extra time.
New tyres bolted on and the session was green. The Pirelli tyre we opted for have great longevity but take a couple of laps to build up to their optimum temperature. So I worked the tyres well with brake heat and corner load and after 3 laps I went for it! I got straight into the 2:03's but knew that wasn't enough to get me into the top ten which was our goal for qualifying. On my last lap I was super clear, getting my braking right and carrying as much corner exit speed as possible and as the session finished I crossed the line to see 2:02.6 on my dashboard and Rob telling me over the radio that we had made the top ten! We were starting the 2016 Bathurst 12 hour in 10th!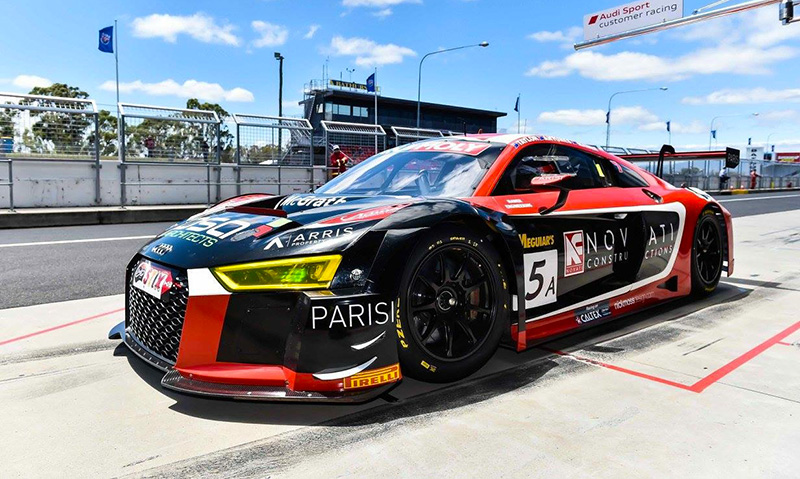 Race Day
Bart had the tough job of starting the race in the cold and dark Sunday morning. The start was clean and Bart did a brilliant job to get through his first hour and a bit, keeping out of trouble. In the cold, we were experiencing understeer problems with the track temperature not allowing the front tyres to get the right heat into them, but we knew that as the day progressed our car would just get better and better. Greg got in the car next and also did a great job to keep out of trouble and kept up a good pace. We were unlucky with a safety car situation which put us a lap down on the leaders, but Greg kept pushing strong and handed the car over to me for my first stint at around 9am. The track temperature had risen by then and I wasn't feeling as much of the understeer, but I could feel the full fuel load in the car after our pit stop, so I had to be cautious at the start of my stint.
After a clean drive I handed the car back to Greg who finished his drive in a long 2 hour stint and did a great job! Traffic is always a problem in this kind of race but when Greg had clear laps he was consistently in the 2:09's and was one of the fastest on track at the time against our competition. The way strategy played out I was going to finish the race and we wanted to do it with minimum number of pit stops, so I jumped in after Greg for another hour so. Bart took over from Greg for a long and final 2 and a half hour stint, and managed to get a lap back on the leaders due to some clever pit stop timing for fuel and clear a lap to our class competition to put us 1st in AA class.
Bart came into the pits at about 4pm and I took over for the final drive to the finish. I had a few great battles with one of the Mercedes SLS GT3's and one the McLaren 650s GT3's. As the race came into its final hour, I felt fatigue creeping up and had a scare in a couple of the braking areas. One of them was after the very long Conrod Straight into Caltex Chase. I had to concentrate on making sure my braking was perfect.
As I started my last lap Rob spoke over the radio "last lap, bring it home mate" and I started to feel such a sense of relief and accomplishment but not without concentrating for one last lap. We crossed the finish line 6th outright and 1st in AA Class! What a feeling!
A big thank you to my supporters and sponsors Novati Constructions and PARISI for getting me to this amazing event and cheering us to the end. Thank you to Greg Taylor for the opportunity and an awesome performance in the car, as well as Barton Mawer – absolutely brilliant! Thank you also to the Melbourne Performance Centre team and Audi Sport and the crew on our #5 Audi.
It feels great to start off the 2016 racing season with a win at the 2016 Bathurst 12 Hour.
Follow me on Twitter and on Facebook for the latest updates.