Sponsors back Antunes for the 2015 Australian GT Championship
It gives me great pleasure to announce that naming sponsor Beechwood Homes will be staying on the Audi R8 LMS Ultra GT3 for the whole 2015 Australian GT Championships season as well as Skwirk. Assetlink, Heasmans and EGroup are also joining me on the grid for the Australian GT season-opening Clipsal 500 event in Adelaide as we race around on the most demanding street circuit on the racing calendar this weekend.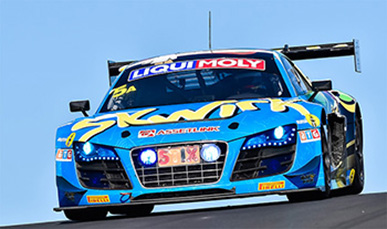 Of course with any demanding street circuit you need the best contact to the road so Heasman Steering and Suspension will stay with the car after their great work in setting up our suspension at the Bathurst 12 Hour.
The last couple of weeks have been fairly tough for me, learning from my mistake at the Bathurst 12 Hour and pushing forward to focus on getting to the Australian GT Championship. I have had amazing continuous support from Rod Salmon, Troy Russell, the team from Melbourne Performance Centre and my good friend and engineer Ric Kemp.
It's a privilege to be driving Audi's world class R8 LMS Ultra GT3, which has achieved more than 100 victories, including wins at the 12-hour race at Bathurst, the 24-hour race at Spa-Francorchamps, the GT Asia series, the Malaysia Merdeka Endurance Race GTC class and the Macau GT Cup.
Catch me live behind the wheel from the Clipsal 500 on Foxtel this weekend for qualifying and all three races:
Race Times
Qualifying Friday 27 February 2015: 12:20 (12:50 AEDT)
Race 1 Saturday 28 February 2015: 8:55 (9:25 AEDT)
Race 2 Saturday 28 February 2015: 17:40 (18:10 AEDT)
Race 3 Sunday 1 March 2015: 9:35 (10:05 AEDT)
Sponsorship spots
There are a number of sponsorship opportunities still available on the car. Contact me to get on board what promises to be a great year of GT racing.