Nathan Antunes' successful test with JRM and Nissan GT
I had a very good test with JRM Group in their Nissan GT-R NISMO GT3 at the Silverstone Grand Prix Circuit in July. It was a very professional day working with JRM, the car was very well presented and was a lot of fun to drive. Throughout my sessions we worked on a set up for me to get comfortable and to be able to push on around this great circuit, and as my confidence with the car built up and circuit knowledge increased and traffic allowing, we were able to put in some very quick times.
The Silverstone test was arranged in conjunction with potential JRM Group factory representative teams Comtec Racing and Virtuosi Racing. Both teams selected a quick young driver to take a look at a possible programme of racing with the JRM built Nissan GT-R NISMO GT3.
Comtec and Virtuosi are set to commit to a joint enterprise, fielding a full Pro GT team with the potential for race outings as early as this year. Both teams will continue their racing activities in F3.5 World Series and Auto GP, with the GT programme as an addition to their businesses.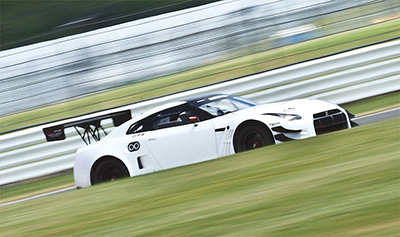 I hadn't been to Silverstone in almost 10 years and had never driven on the new Grand Prix configuration. To be honest, the thought of having to learn the track in a dozen laps and try to be competitive against drivers that have very recently competed on this circuit at a very high international level, made me a little nervous. Nevertheless, I put my head down and got on with the job I had in front of me. At the end of the day, I had set the fastest time in the car and was feeling great!
"It was another good test and takes us forward several steps towards the plans for a full programme. The car is impressive and JRM's support has been very, very good." said Comtec Racing's team manager Phil Blow.
"This is very much a joint effort with Comtec and JRM and this test showed clearly that we're on course for moving from testing to racing. The guys all loved the car and we're now working towards an objective to be on the grid for two of the remaining Blancpain Sprint races this year ahead of a full GT campaign in 2015." said Andy Roche of Virtuosi Racing.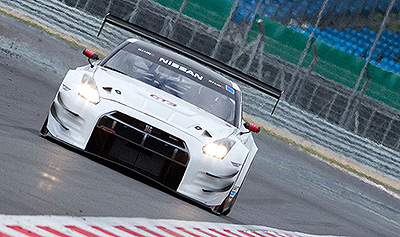 James Walters, Partnership Manager for JRM Group said "Our goals for 2014 are almost complete. We wanted to secure two teams to represent the JRM factory so we have the potential for race winning cars in a variety of series around Europe and the Middle East to compliment the efforts of Blancpain Pro-Am championship winning Nissan GT Academy Team RJN.
"JRM in conjunction with Virtuosi and Comtec put together a very professional GT test in the Nissan GT-R GT3 car for Nathan on the Silverstone GP circuit. We are very happy with both the car and the expertise with which it was run. Everybody worked well together and it was a fantastic way to be introduced to this beautiful beast of a car and Nathan was able to quickly show how professional and quick he is." said Nathan Antunes' manager Alf Boarer.