Australian GT winners to race McLaren in GT Asia
[News Release: Sydney 12/07/2015] After claiming their maiden victory in the GT Asia Series at Okayama two weeks ago, after just three races into their maiden season, there will be a change in the FFF Racing Team by ACM McLaren squad for the forthcoming Round # 5/6 GT Asia Series (17-19 July, 2015) at Fuji International Speedway, Japan next week, with Australian GT front-runner Nathan Antunes, and former Australian GT class winner Rod Salmon joining forces to share the #15 McLaren 650S GT3.
Antunes (pronounced Antune-es) is one of the leading drivers in the Australian GT Championship, and no stranger to GT Asia, having campaigned the Dilango Racing Lamborghini of Dilantha Malagamuwa last season in both Autopolis and Sepang, however the former open-wheel star has an additional tie to the series, having been once managed by FFF Racing Team by ACM's Alf Boarer.
Salmon too is no stranger to GT3 competition, as the reigning Australian GT champion in the Trophy Class (sharing the drive with Antunes), and a recent competitor in the Nurburgring 24-Hour race with the Audi Sport customer racing Team. He is also the car owner of Antunes' 2015 Australian GT title challenging Skwirk / Beechwood Homes Audi R8 Ultra.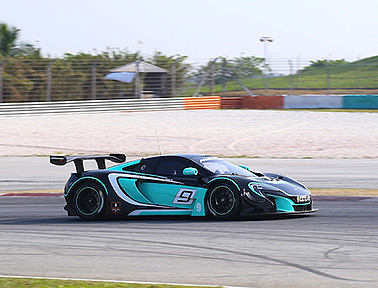 "I'm really looking forward to returning to GT Asia and joining the FFF Racing Team by ACM squad," Antunes admitted. "I enjoyed my time in the series last year, but felt that I had some unfinished business to take care of, and this opportunity gives me a perfect opportunity to battle at the front end of the field."
"Alf and I have known each other since I was in open-wheelers in Europe during my formative years as a driver, and re-joining him and my Australian engineer Ric Kemp – who has been engineering that car all year – is a perfect scenario. To have Rod come along for the event too is almost the perfect opportunity!"
"Asia has been on my radar for a while," Rod Salmon added. "The series is super competitive, and the cars are every bit as good as the best in Europe, so when I was given the opportunity to join Nathan and the FFF Racing Team, I didn't have to think too long and hard about it.
"I've never driven a McLaren before, so that will be a new experience, but all of it will be made much easier with Ric as our engineer, and having Nathan alongside again just like last year and the two endurance races at Bathurst and Phillip Island this year, it will feel just like home, so I'm not expecting too many hassles.
"We've also got the driving talents of Andrea [Caldarelli], Tonio [Liuzzi], Andre Couto (subbing for Caldarelli) and Hiroshi [Hamaguchi] to call on too, as well as a wealth of experience from the McLaren team, so I'm really looking forward to it, and moving away from my simulator to the track on Thursday for unofficial practice."
"I'm looking forward to having Nathan and Rod join us at Fuji," FFF Racing Team by ACM's Andrea Caldarelli said. "With Jiang Xin and Max taking over the #37 car, it gave us a vacancy in the team, and when we started to look at options, the two Australian team-mates were an almost perfect fit for the seat."
"After Hiroshi and Tonio took the team's first victory in Okayama, the whole operation took a step forward, and we're keen to add some more wins to the program this year, so having three competitive cars in the team is important."
The Fuji round will get underway on Thursday, 16 July with two 60-minute unofficial practice sessions for teams to acclimatise with the Fuji circuit, ahead of Friday's twin official sessions, and the two 60-minute races scheduled for Saturday and Sunday.
Race 1 is available on afosTV YouTube at 5:00pm AEST Saturday 18 July.
Race 1 will be available on afosTV YouTube at 7:00pm AEST Sunday 19 July.
About FFF Racing Team by ACM
Website, Facebook, Twitter
FFF Automobile is a global leader in the Chinese Automotive market and is managed by Fu Songyang. The other – ACM – is owned by Andrea Caldarelli. The Italian, a world-renowned racer, has successfully competed in Asia and Europe in a career that has ranged from single-seaters to GT cars. The FFF Racing team by ACM is proudly supported by Epicuro, FrontiArt, Alpinestars and Info Agency.
Follow Nathan Antunes on Twitter and Facebook for the latest updates.