A tough finish to the 2015 Australian GT Championship
The weekend at the Highlands Motorsport Park in New Zealand started off strong. We had a great set up in the Skwirk / Beechwood Homes Audi R8 LMS Ultra and we were fast straight away, in both 40 minute practice sessions on  Friday. Because Sunday was for the non-championship Highlands 101 endurance event, all Australian GT sessions were compressed over 2 days instead of the normal 3 days, so qualifying was also on the Friday afternoon.
Qualifying went well. I was secured 3rd on a track that was gradually getting worse with dirt as drivers were exploring the track limits more and more. Being in front and surrounded by Nurburgring and Spa 24 Hour GT race winners and V8 Supercars superstars felt special. I was looking forward to some amazing racing!
Race 1
Race 1 started well. I held on to 3rd position and after a few laps started to challenge Audi factory driver Chris Haase for 2nd and attempt to pull back Klark Quinn who took the lead in the McLaren 650s GT3. After a couple of passing attempts that were blocked by Haase, I lost 3rd to the Ferrari 458 of Smyth and started a little battle which lasted a few laps before I was able to regain the position and close the gap back to Haase.
We were catching lapped traffic quite quickly, but in the back half of the circuit, disaster struck. Haase and I were making our way through and looking for a passing move. I managed to get a run up along the inside of Haase just as he moved across to pass traffic. It appears Haase didn't see me, and as I came up alongside him he moved over and we made contact, hard enough to see us get tangled up and spear into the tyre wall on the outside of the circuit. We were both out of the race.
After the car got trucked back to the pits, detailed evaluation revealed that there was too much damage done to the front chassis components where Haase's car hit me up against the wall. We were of the weekend and out of the championship race. The team and I were absolutely devastated at the end result, especially after such a hard fought and amazing year. The car was also out of Sunday's Highlands 101 race.
Highlands 101
Later on that day a bit of light shone through the darkness when Greg Taylor, the driver that I will be sharing the 2016 Bathurst 12 Hour race with, called me and put me in his spot for Sunday's 101 to race with fellow Trophy Champion and Bathurst 12 Hour team mate Barton Mawer. I was completely taken back by this gesture and very thankful to Greg for giving me a shot in the 101 driving the 2011 spec Audi R8 LMS which was competing in the Trophy class. It was a great opportunity to start working together as a team in preparation for next year.
We qualified inside the top 10 which was amazing considering were were flanked by much newer and technically quicker cars. The Highlands 101 adopts an old school Le Mans style running start where co-drivers must run to their cars and tag the rear wing at which point the other driver in the car takes off from the pits. I did the sprint running race and Bart started in the car but didn't get off to the best start because we couldn't get into gear which delayed our exit from the pits. Out on circuit our pace was very good and we got back inside the top 10 managing to avoid some of the chaos that was going on around us. I got into the car at the 55 lap mark and brought it home in 8th position outright and 1st in Trophy Class. A great way to start what promises to be a great partnership leading into the 2016 Bathurst 12 Hour!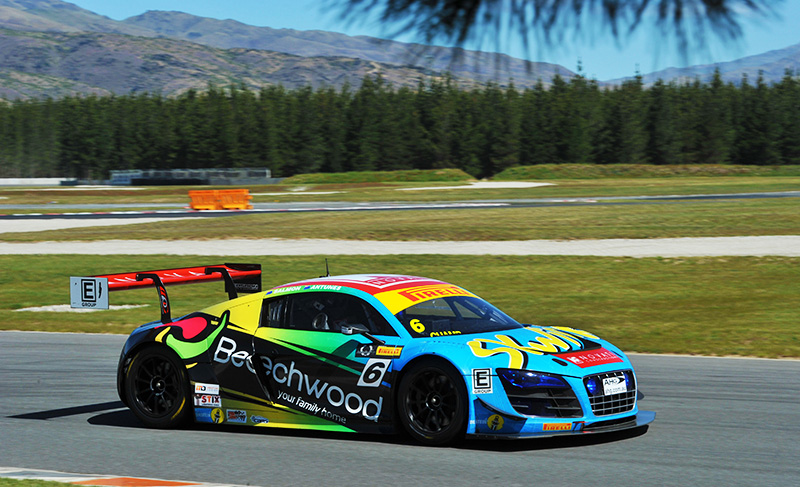 I need to thank Melbourne Performance Centre for such an amazing year, the whole team, the crew have been flawless in performance all year. Beechwood Homes and the Cavasini family thank you for your amazing support throughout this huge year and same to Novati Constructions and the Novati family, Skwirk.com.au and Rod and Kylie Salmon, you made it such a special year – thank you. I'd also like to thank Bilstein Suspension, Heasman Steering and Brent Wilson for your continued and loyal support. Antunes Lawyers, EGroup Solutions and Assetlink – thank you for your trust and backing through this amazing year.
Looking forward to a bigger and better 2016 season!
Follow me on Twitter and on Facebook for the latest updates.